| | |
| --- | --- |
| Schullhof | Five Pieces for String Quartet |
| Martinů | String quartet no. 5 |
| DvořŠk | String quartet no. 11 in C Major, opus 61 |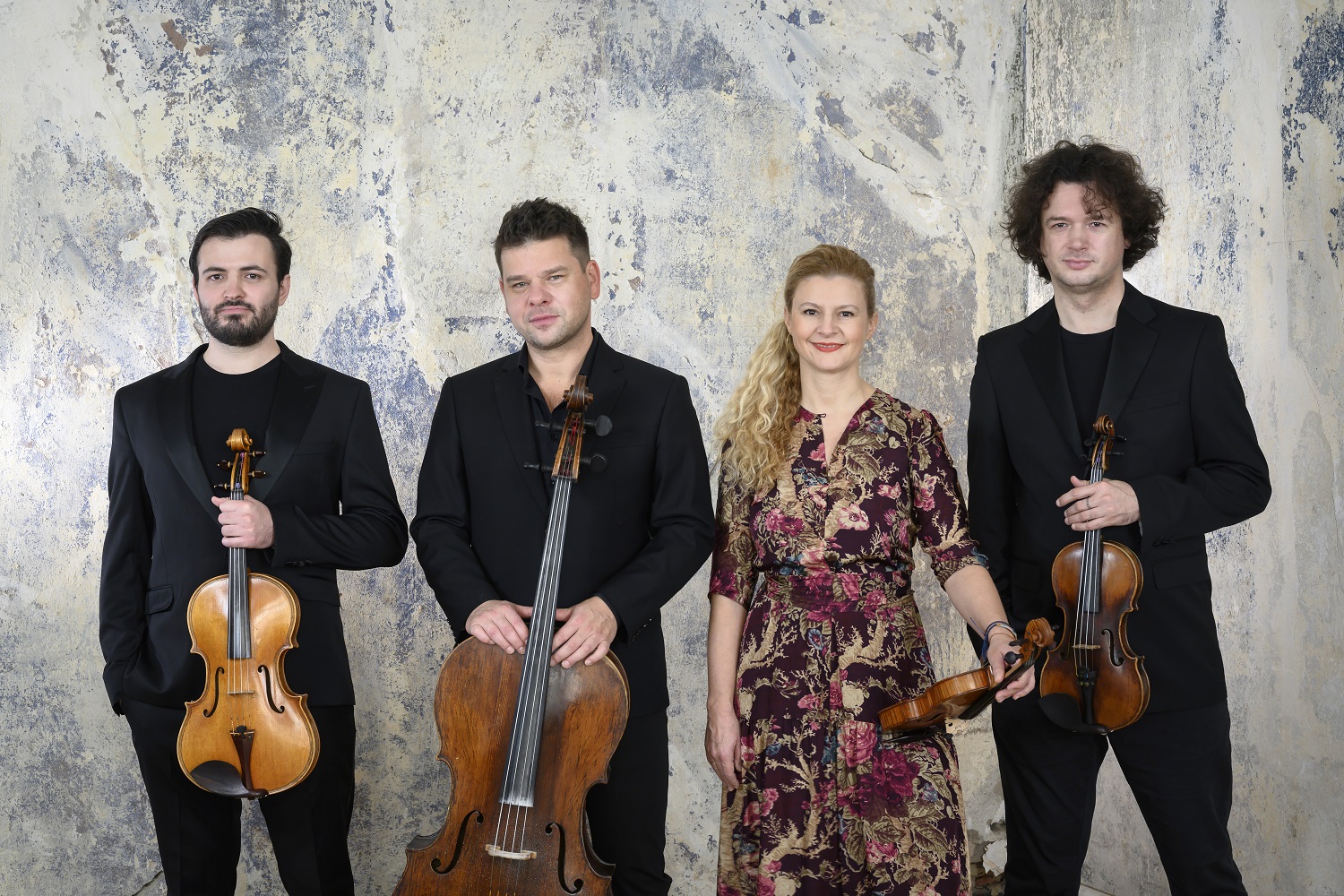 The quartet takes its name from the Czech composer Pavel Haas who died in Auschwitz in 1944 with 3 beautiful string quartets to his name. This ensemble is a welcome guest in our chamber music series in Diligentia, with previous successful performances in 2014 and 2017. Their return in 2021 was therefore obvious, but corona threw a spanner in the works. That's why it's on the program again this season.
The quartet celebrated its 20th anniversary in 2022 and continues to deliver top performances despite several changes in the composition. Ranked among the best string quartets of all time according to BBC Music Magazine. The ensemble has received international prizes for its CDs, including its interpretation of Czech composers. Six of the eight albums released were awarded with a Gramophone Award.
In 2007 the quartet was already touted as a rising star by the European Concert Hall Organization (ECHO) and in 2009 it received the BBC New Generation Artist nomination. In 2010 the quartet received a grant from the Borletti-Buitoni Trust, which financially helps musicians worldwide to develop their international careers.

Website: www.pavelhaasquartet.com

back
---
TUESDAY 19 DECEMBER 2023
20.15 p.m.
BARBICAN QUARTET (ENGLAND)

| | |
| --- | --- |
| Amarins Wierdsma | Violin |
| Kate Maloney | Violin |
| Christoph Slenczka | Viola |
| Yoanna Prodanova | Cello |
PROGRAM
| | |
| --- | --- |
| Haydn | String Quartet opus 50 no. 1 |
| Berg | String Quartet opus 3 |
| Beethoven | String Quartet no. 15, opus 132 |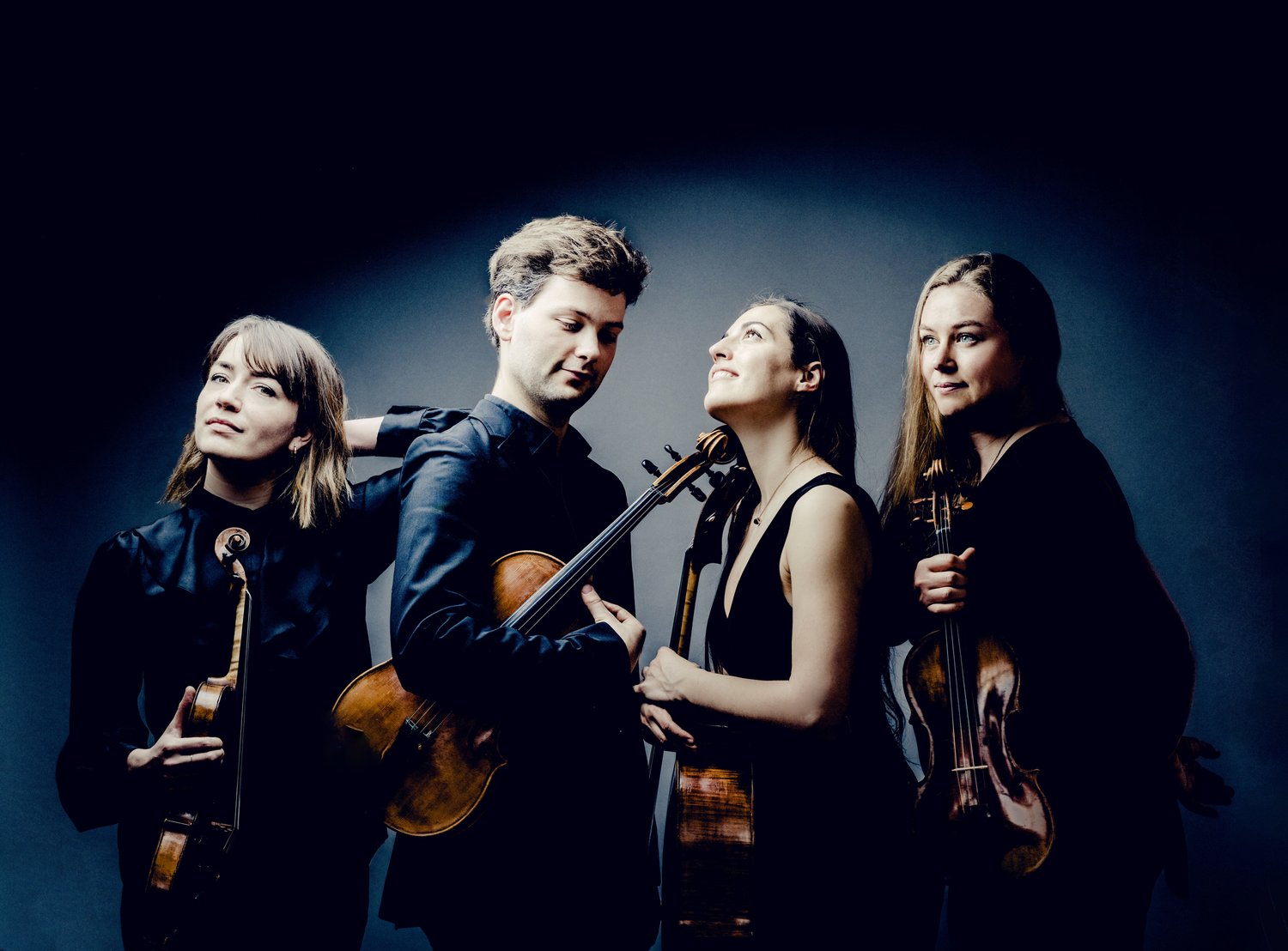 This time up-and-coming talent with the Barbican Quartet. Founded in 2014 as students at the Guildhall School of Music and Drama in London, they were already winners of the St. Martin's in the Fields Music Competition in 2018 after their debut in Wigmore Hall and then made an international name in 2019 with the 1st and the audience prize at the international Joseph Joachim Chamber Music Competition in Weimar. In September 2022, the quartet won 1st prize at the ARD International String Quartet Competition, graced with its own promotional video on YouTube! Their playing is characterized as finely structured and virtuosically balanced where necessary and full of joy, fury and spirit where possible.
The quartet is very active in the Netherlands, including performances at the Amsterdam Grachtenfestval, in the Concertgebouw and in December 2022 also outside the cities of the Randstad. The ensemble has recently become artist in residence at the Dutch String Quartet Academy in Amsterdam. The ensemble is supported (financially) by, among others, the Royal Philharmonic Society (UK) and the National Musical Instruments Fund (Netherlands).

Website: www.barbicanquartet.com

back
---
TUESDAY 23 JANUARI 2024
20.15 p.m.
SHAER TRIO (IsraŽl/Netherlands)
| | |
| --- | --- |
| Jeroen Dupont | Violin |
| Emanuele Silvestri | Cello |
| Ishay Shaer | Piano |
PROGRAM
| | |
| --- | --- |
| Schubert | Piano trio no. 1 opus 99 |
| Ravel | Piano trio |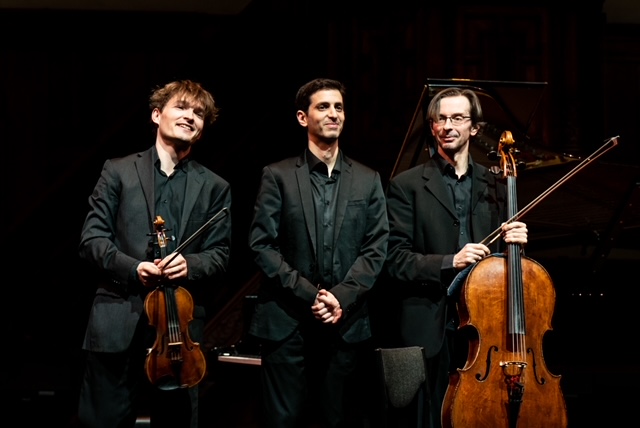 Ishay Shaer (1983) is one of the leading pianists of his generation, acclaimed for his recitals and for his performance with major international orchestras. He studied with teachers such as Daniel Barenboim and Vladimir Ashkenazy. In recent years he has also focused on chamber music, with Quirine Viersen and Liza Ferschtman, for example.
After his first violin lessons with Coosje Wijzenbeek, the violinist Jeroen Dupont (1987) studied with Vera Beths. He later soloed with the Concertgebouw Chamber Orchestra, among others. In 2019 he gave a recital in the Kleine Zaal with Dina Ivanova (Laureate Franz Liszt Piano Competition 2017). He played his own work composed for this occasion. He plays a violin built by Giovanni Grancino (Milan, 1714), on loan from the National Musical Instruments Fund.
Emanuele Silvestri (1973) has been solo cellist with the Rotterdam Philharmonic Orchestra since 2021. He can boast many competition prizes. He also performs with well-known European orchestras, under great conductors such as Ricardo Chailly. In chamber music he is active with numerous ensembles and musicians, e.g. with the Jerusalem Quartet.


back
---
TUESDAY 27 FEBRUARI 2024
20.15 p.m.
JERUSALEM QUARTET (ISRAňL)
| | |
| --- | --- |
| Alexander Pavlovsky | Violin |
| Sergei Bressler | Violin |
| Ori Kam | Viola |
| Kyril Zlotnikov | Cello |
PROGRAM
| | |
| --- | --- |
| Mendelssohn | String Quartet no 1 opus 12 |
| Ben-Haim | String Quartet nr. 1 |
| Debussy | String Quartet opus 10 |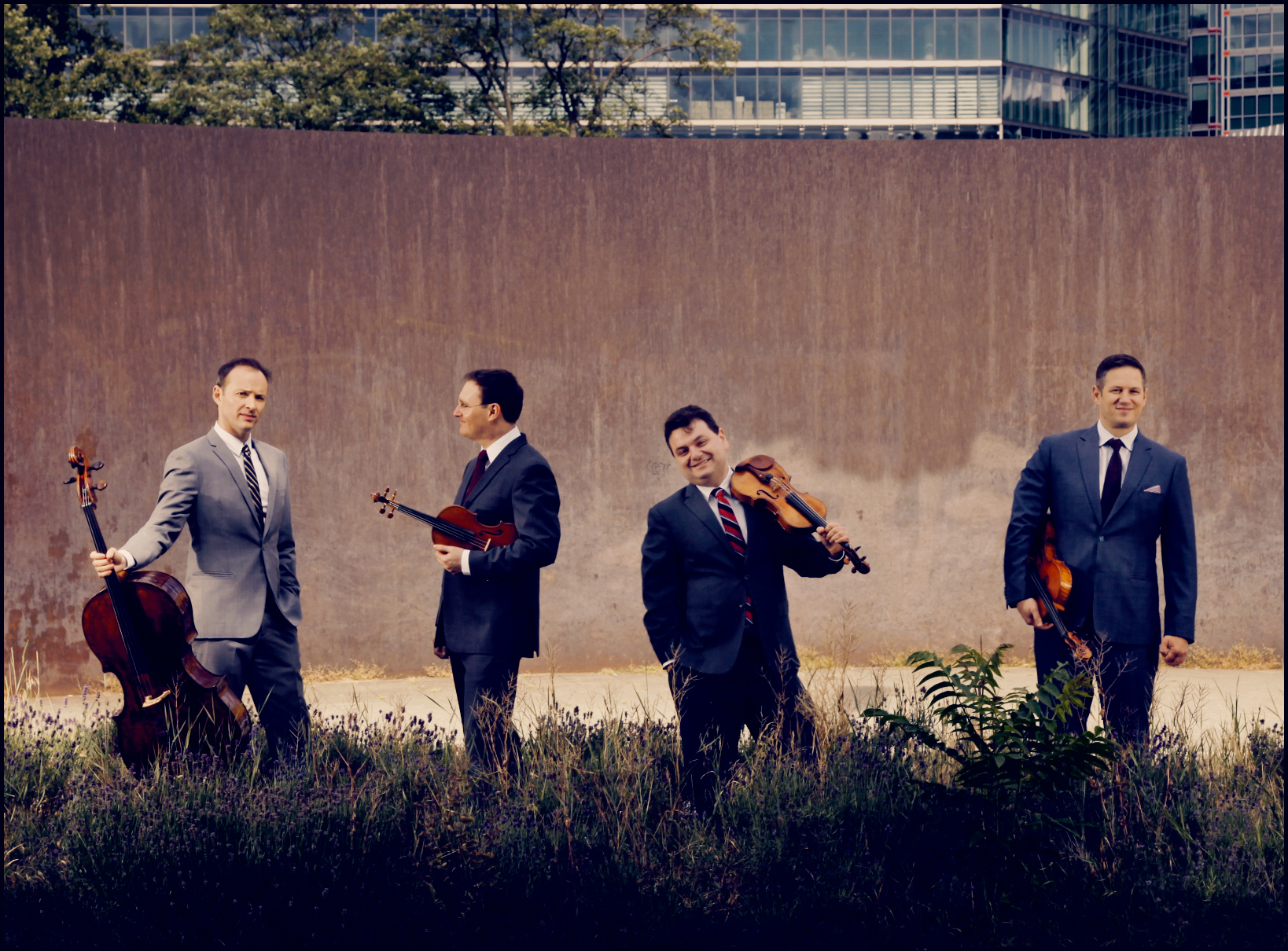 Due to corona, the performance of the Jerusalem Quartet in Diligentia was canceled in 2020 and 2021. With his performance now, it completes its first lustrum here. The quartet made its debut in 1996. That same year it won first prize at the Jerusalem Academy Chamber Music Competition. Many awards followed, including the Borletti-Buitoni Trust Award, which was first presented in 2003. The ensemble is praised worldwide for its great depth of expression, warm, full tone and beautiful balance between high and low voices. The quartet constantly refines its interpretations of the classical repertoire and also explores new work. In 2019, it released a unique album of Jewish music from Central Europe between the wars and collaborated on this and later with Israeli soprano Hila Baggio to perform Yiddish cabaret songs from Warsaw.
It is clear that this ensemble is a welcome guest at international festivals and the major concert stages in the US, Japan and Europe. Just before the corona lockdowns, the ensemble could still be heard at the String Quartet Biennale in Amsterdam in early 2020.

Website: www.jerusalem-quartet.com

back
---
TUESDAY 16 APRIL 2024
20.15 p.m.
MECCORE STRING QUARTET (Poland)
| | |
| --- | --- |
| Wojciech Koprowski | Violin |
| Aleksandra Bryla | Violin |
| Michal Bryla | Viola |
| Marcin Mączyñski | Cello |
PROGRAM
| | |
| --- | --- |
| Beethoven | String quartet no. 4 opus 18 |
| Penderecki | String quartet no. 3 |
| Schubert | String quartet no. 15 opus 161, D887 |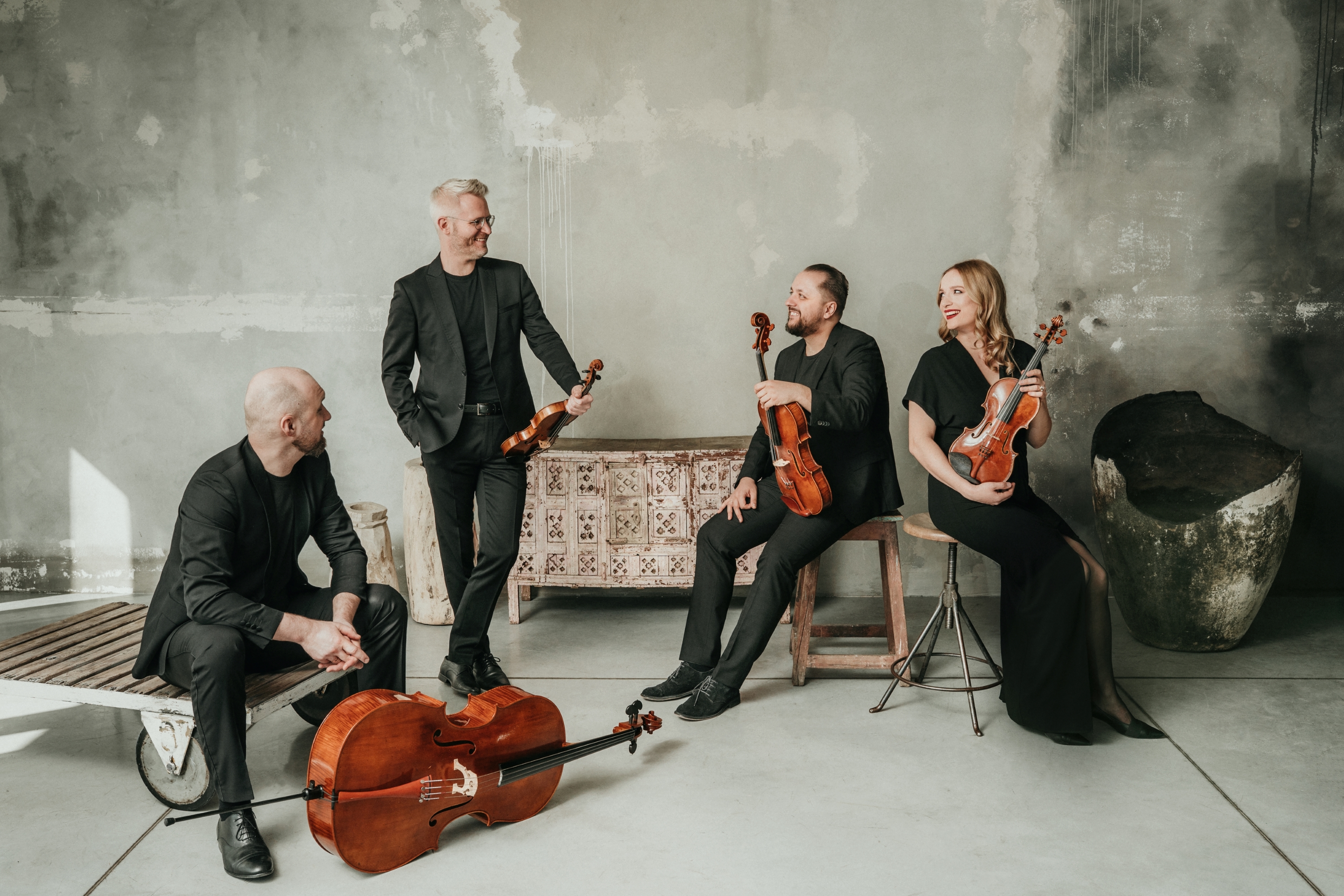 With its performance in Diligentia in December 2018, the Meccore quartet lived up to the praise of GŁnter Pichler (Alban Berg Quartet) as the best Polish quartet ever. Their collaboration started in 2007 and since then their star has risen at home and abroad with performances on the major international concert stages. The quartet is praised for its innovative approach to music. It studied with members of the Alban Berg Quartet, Cuarteto Casals and the Artemis Quartet, among others, and the members of the quartet now also train students at the conservatories of Poznan, Warsaw and Krakow.
The quartet also regularly performs on radio and television and can be heard at the well-known chamber music festivals. They also became the first Polish string quartet to perform at a Holocaust Remembrance Day in the German Bundestag.

Website: www.meccorequartet.com

back
---
info@stichtingkamermuziekdenhaag.nl